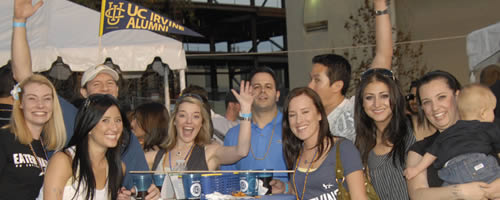 Your Membership Benefits
You are UC Irvine. You are a part of the Anteater family. And you deserve to be rewarded.
Our members receive a host of benefits not only as an incentive to join the association, but to say thank you as well. After all, without our members, we would not exist… and neither would a network dedicated to serving UC Irvine alumni!
We have three membership tiers to choose from.
Benefits subject to change based on terms and conditions of each provider. 
Top 5 benefits of membership
Save money: Get discounts on a wide variety of goods and services.
Stay connected: Find out the latest UC Irvine news, research and updates.
Have fun: Receive exclusive access to exciting events and programs.
Help yourself: Every membership helps increase UC Irvine's national ranking.
Show your pride: It's just the right thing to do!
Benefits of membership
Membership is the best way to show your support to UC Irvine while also receiving valuable benefits in recognition of your support.
Communications
Lifetime e-mail forwarding address (available to all UCI alumni. Membership not required.)
UCI Alumni monthly eNewsletter
Exclusive member-only invitations to events
Recreation, Travel and Entertainment Services
Educational/Career Services
Claire Trevor School of the Arts Summer Academies: Get a 10 percent discount on the programs offered through this summer arts outreach program. Use code ALUMNI10 to receive the discount.
Kaplan: UCI Alumni Association members will receive 10 percent off Kaplan GMAT, GRE, LSAT, MCAT, DAT, OAT and PCAT products retail priced $1,100 or above. Members will also receive $50 off GMAT, GRE, LSAT, MCAT, DAT, OAT and PCAT Classroom Anywhere and On Demand Grad courses.
UC Extension Courses: Discounts on extension courses offered at UC campuses (Must be lifetime member for UCLA discount)
UC Campus  Library: Book-borrowing privileges at all UC Campus libraries
UCI Career Center: 20 percent discount off the Alumni Compass and One Pass (UCI alumni only)
FlexJobs: Take advantage of 30 percent off subscriptions with FlexJobs, offering access to professional telecommuting, flexible  and part-time job opportunities. Member code:UCIALUMNI
UCLA Anderson Executive Program: 10 percent discount on UCLA's certificate program in leadership and general management.
Online Alumni Research Database: All lifetime members now have free access to EBSCOhost, a library research database that features close to 2,050 peer-reviewed journals as well as indexing and abstracting for more than 7,380 publications.
Consumer Services
Financial Services:UCI Alumni Association/Bank of America® credit card
Insurance Programs: Group rates on life, medical and auto insurance
Savings Connections: Save at national retailers and service providers
Healthy Paws Pet Insurance:Take the worry out of pet care and make it easy to get the best care possible from the #1 customer-rated pet insurance company.
UCI Campus
The Hill at UCI (formerly the UCI Bookstore): Annual members receive 10% discount and lifetime members receive 20% discount on regularly priced insignia clothing and merchandise
(excludes textbooks and best-sellers).
UCI Computer Store: Educational pricing on items excluding Apple products & all software. Discount on Newegg 
UCItems: Great discounts available! Check out UCItems

 

for valuable discounts to Disneyland, Legoland, AMC and Regal movie theaters and much more!
UCI Library: Free book borrowing privileges
UCI Extension: 10 percent discount off one course per quarter
UCI Career Center: 20 percent discount off the Alumni Compass and One Pass (UCI alumni only)
UCI Anteater Recreation Center: $40 off annual membership  (UCI alumni only)
UCI Parking: Save $2 off daily parking rate after 4 p.m. on weekdays and all day on weekends
UCI Athletic Events: Discounted and free tickets to select UCI athletic events
UCI Athletics Summer Camps: Receive $10 off per session, per dependent child at camps for boys and girls, age 6-18
Newkirk Alumni Center Rental: 50 percent off hourly rental rates
UCI University Club: 25 percent discount off dining room rental rate and 10 percent off individual weekly lunches