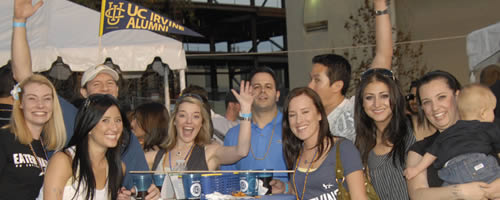 Insurance Programs
UCIAA members could receive special savings on GEICO auto insurance. GEICO offers low rates, exceptional 24-hour customer service and high-quality auto insurance to over 13.5 million policyholders in the United States.  In addition to auto insurance, GEICO can also help insure your motorcycle and the GEICO Insurance Agency can help you with homeowners, renters, condo, boat insurance and more. 
Visit geico.com/alum/uci, call 1-800-368-2734 or stop by a local GEICO office to find out how much you could save today!  (Be sure to mention your affiliation with the UC Irvine Alumni Association to be eligible for the special savings.)
---

UCIAA has partnered with AIA to offer Medical Insurance, Life Insurance and Pet Insurance at special rates reserved for our members. Visit the Alumni Insurance Program Web site for more information, or call 1-800-922-1245 weekdays, 8 a.m.-6 p.m. Eastern Time.
---
UCIAA and
USI Affinity Collegiate Insurance Resources
have joined together to offer
Healthy Paws Pet Insurance
to allow you to focus on your pet's care and not the cost. From diagnosing a bee sting to treating serious conditions like cancer, Healthy Paws helps to ensure your pet receives the best medical care possible. Visit the
USI Affinity Pet Insurance Program
Web site for more information or call 1-800-453-4054.