Student Alumni Association
---
The Student Alumni Association (SAA) is a registered campus organization that enhances the student experience at UCI by connecting students to one another, alumni, and the university.
This student organization offers a unique involvement opportunity for its 50+ members to interact and network with alumni and fellow students. Apply today!
---
Saturday, November 7, 2015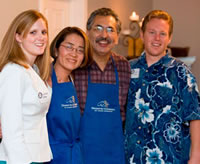 6:00-9:00 p.m., Orange County
Learn more >
Lead
---
You're a student now, but you will be 1 of over 155,000 alumni soon. Be the ambassador that bridges the gap between students and alumni. As a member, you could have the opportunity to enhance your collegiate experience and develop your lifetime Anteater network.
Connect
---
Work alongside key students, staff, community leaders and renowned alumni.
Leverage the UCI Alumni Association resources to develop and execute events.
Collaborate with campus organizations in the UC Irvine community.
Make an Impact
---
Do you want to develop public relations, communication, and leadership skills?
Are you willing to share your collegiate experience with alumni and update them on current campus life?
Do you have great ideas to improve campus networking and want to leave lasting traditions?
Consider applying for membership. Zot Hard.
Spring 2015 Recruitment Applications are available. Apply Today!
Questions? Email us at ucisaa@uci.edu or follow us via the social media links in the right column above.