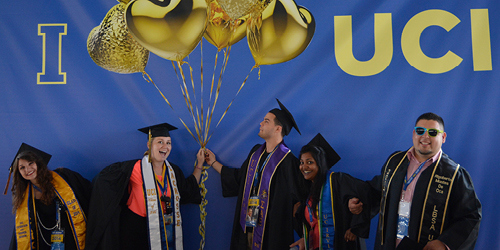 Congratulations, Class of 2015!
Welcome to the Anteater alumni family! UCI Alumni strives to support you, our newest alumni, with a variety of programs that will help propel your success beyond UCI by providing networking opportunities and a wide range of university resources.
CAP & GOWN SALES: Last Chance Regalia & Senior Send-Off
Wednesday, June 10: 10:00 a.m. - 3:00 p.m.
Thursday, June 11: 1:00 - 6:00 p.m.
Newkirk Alumni Center (Building #450 on the campus map)
Forgot to buy your Cap & Gown?
Don't worry! Before commencement, Last Chance Regalia will be the one and only time you can purchase a cap, gown, tassel, and hood (for masters & doctorate). Can't make it out to Last Chance Regalia? Send a friend! All they need to know is your height, school, degree and contact information. No Cap & Gown packages and individual items (tassel, cap, hood) walk-up sales prior to June 10-11.
Commencement is around the corner and it's time to celebrate at your Senior Send-Off!
Free food and refreshments for graduating seniors (Student I.D. required)
Beer garden featuring 'Anteater Ale' (Thursday only)
Post Grad Career Tips and Personal Branding sessions by UCI Extension
You have your degree. Now what?
Gain useful post grad career advice from UCI Extension!
Session 1: Personal Branding for New Grads
Thursday, June 11: 1-1:15 p.m. & 3-3:15 p.m.
Learn seven ways you can turn your personal traits into a personal brand that will help you stand out from the competition and land your ideal job.
Session 2: New Degree. New Job. 10 Steps to Jumpstart your Career
Thursday, June 11: 2-2:15 p.m. & 4-4:15 p.m.

Did you know that more than half of all available jobs are never advertised? Learn the 10 proven steps you can follow to excel in the hidden job market and make yourself more marketable.
About the Presenter:
Jeannie K. Sticher, M.A., has over 20 years of domestic and global experience in various senior level customer and human resource positions. This experience included leadership of large customer teams, organizational design and the development of learning programs. She has served as a consultant and trainer for a variety of organizations, including building effective teams and motivating internal and external customers.  She currently teaches Business English Speaking and Listening in the UCI Extension International Programs.
So you're graduating. Now what? Stay connected to your Anteater Network and become a member of the UCI Alumni Association. Why wait until graduation to begin receiving the many benefits and discounts of membership, including:
10% discount off Kaplan Test Prep courses
15-20% off UCI gear at The Hill
Discounts on UCI Extension courses and Career Center Services
Professional and social Anteater receptions across the nation
Discounts for theme parks, car rentals, hotels, insurance, and more!
New annual members will receive a business card case as our gift.** New life members will receive a business card case and an embossed diploma plaque (pictured on right).
**While supplies last.